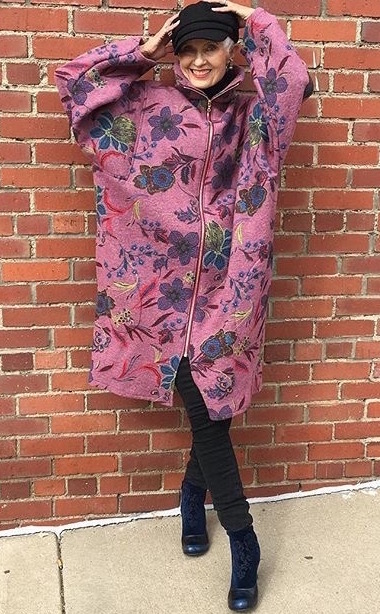 Welcome to the cooler season, coat season Paris Style.  Last year about this time I had the honor of traveling to Paris with my niece on a tour with Marcy and Katherine Tilton.  They are there again right now, fabric lovers, sewists, designers and anyone can experience Paris through their eyes http://paristilton.com.  They have tours in November and then again in May.  We shopped fabric stores, clothing stores, saw wonderful museum exhibits, went to Sunday flea markets.  Everything we did we did with gusto!
Along the way I discovered a wonderful felted wool fabric that I had to have.  It is handpainted and I had already created  the perfect original design that would work into this fabric.  The fabric was bulky to pack, but like I said I had to have it and when I have to have something I get it, especially if its fabric!  The original design is forever forgiving, one size fits most.  The zipper opening is easy and carefree.  And there are side pockets.
Fast forward a year and here it is modeled by Judith Boyd, check out her blog at http://stylecrone.com.  Dress it down with leggings or your favorite jeans.  Dress it up with a perfect dress for out on the town.  A show stopper of an outerwear piece, you may not want to take it off.
Want it?  There is only one, a one of a kind.  Contact me and let's talk! https://www.brooksltd.net/contact
Stay warm out there, wool felt will help with that, and it comes in solid colors too(special order).  I can't help re creating a grand design outerwear or otherwise.  It's my aesthetic, from daywear to evening wear.  What could be more fun than expressing oneself  through the clothes that you  choose to wear?
I am lucky that I can execute a vision from start to finish.
Happy Fall everyone.  Get ready for colder weather.