Custom Jean Jacket
When Ball Arena approached me to design a super custom piece for a super-secret client, I could hardly believe it. After all, the custom piece was for THE Shania Twain. As in, the country crossover star who transcended genres to dominate the pop music charts, too. As in, the Canadian singer-songwriter whose tunes were the soundtrack of the 90s and early 2000s. THAT Shania Twain.
Needless to say, I wanted to impress her much.
Creating a custom jean jacket especially for Shania Twain meant designing a personalized piece both inspired by her and featuring my signature Brooks LTD elements. I watched her interviews and pulled out specific words and phrases Shania used. It is my sincere hope these words resonate with her and that she enjoys the personalization as much as the jacket itself.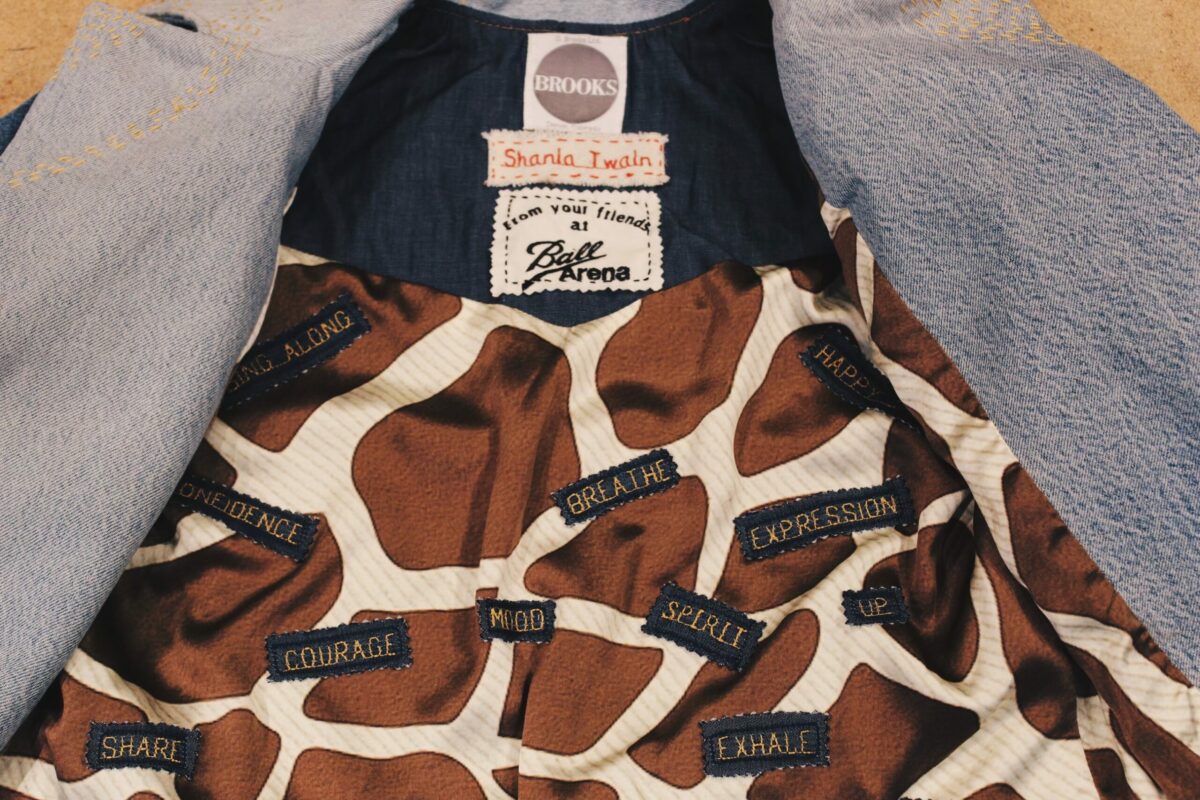 Design Details Matter
Using a Japanese technique called Sashiko stitching, I created hand-stitched details. Sashiko, a traditional way of mending and decorating textiles to further their life span to prevent them from going into the landfill, has captivated my spirit as it is relaxing and therapeutic to slow down and stitch where the thread takes me. Sashiko is also in my current collection, with rivers of thread stitched on easy to wear garments.
Shania's custom jean jacket is made from recycled denim, including functional pockets on the frayed-edge stylized sleeves. Even the former belt loops were upcycled to hold sunglasses! The jacket includes a custom printed silk charmeuse lining and backside fringe created from tasteful sequins on cotton chainette thread for some Western flair. I wanted the front to be classic, chic and tailored, so that Shania could accessorize as needed. As you turn, she shows off a playful vibe from the color changing sequins.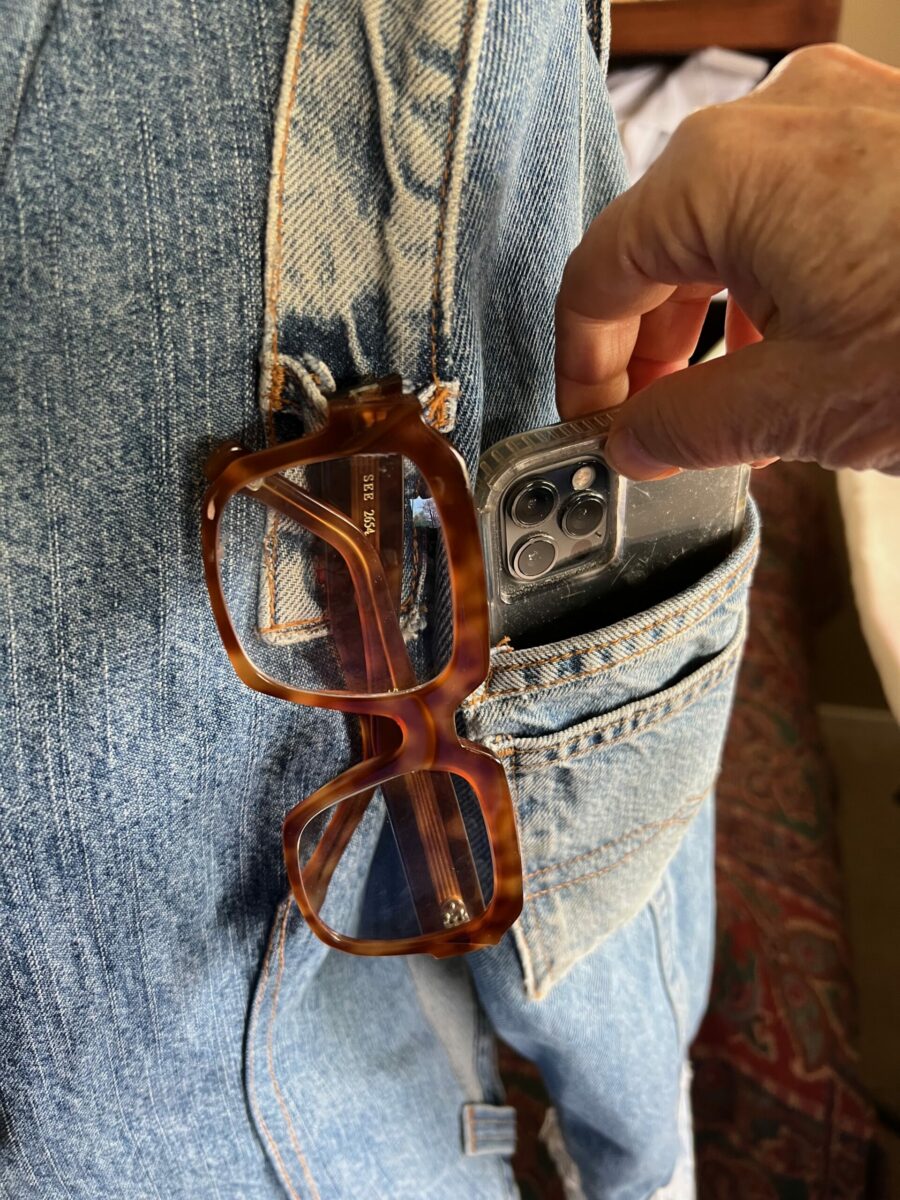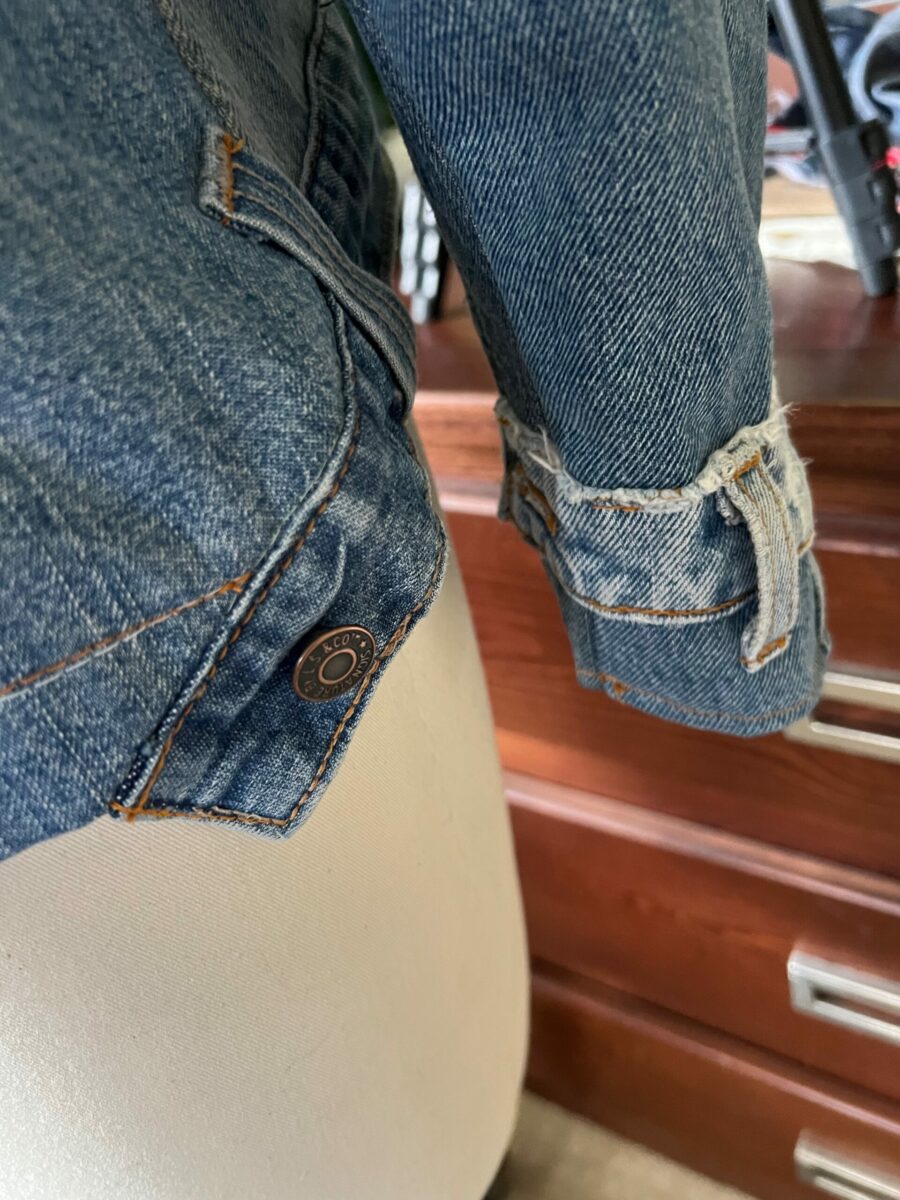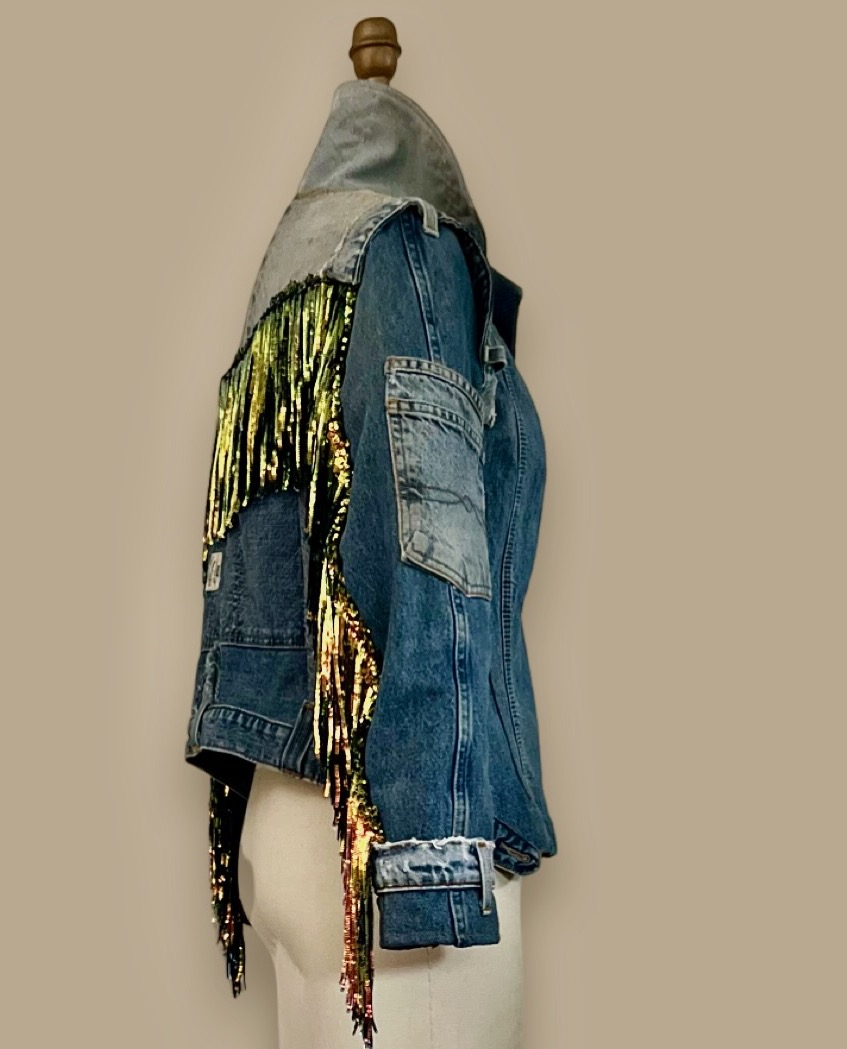 Jacket Spotted on Instagram
I noticed she recently wore the jean jacket on an Instagram video with Billy Ray Cyrus announcing a reissue of one of her iconic albums. It's thrilling to see Shania Twain as a walking piece of art in a Brooks LTD custom made jean jacket!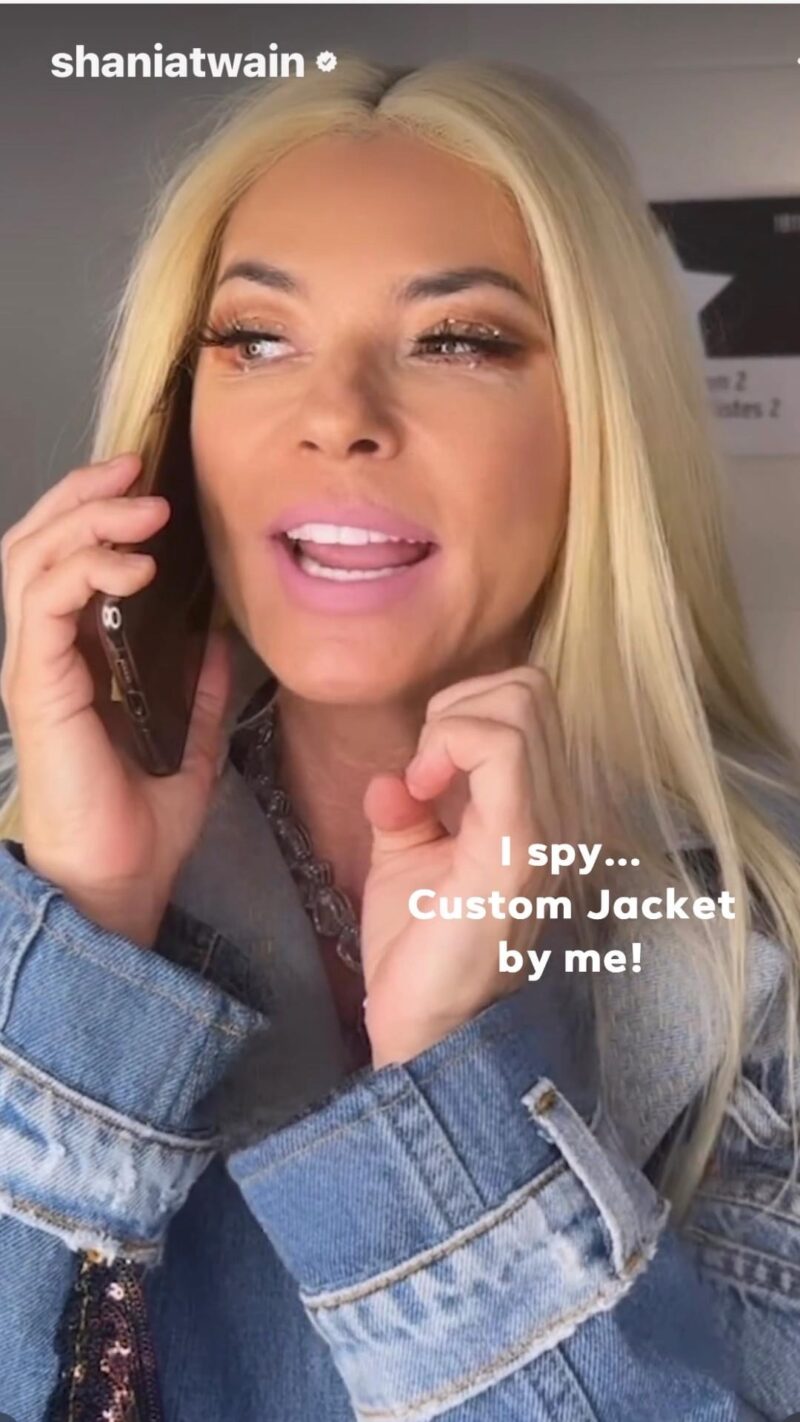 Proud of Pieces: Custom or Not
As a Colorado-based clothing designer, I love getting to design and create custom pieces for women across the globe. After 45+ years of making unique fashions, my designs are typically worn by women right here in the West. It is a joy whenever women happily wear Brooks LTD fashions — both custom pieces and from my ready-to-wear collections!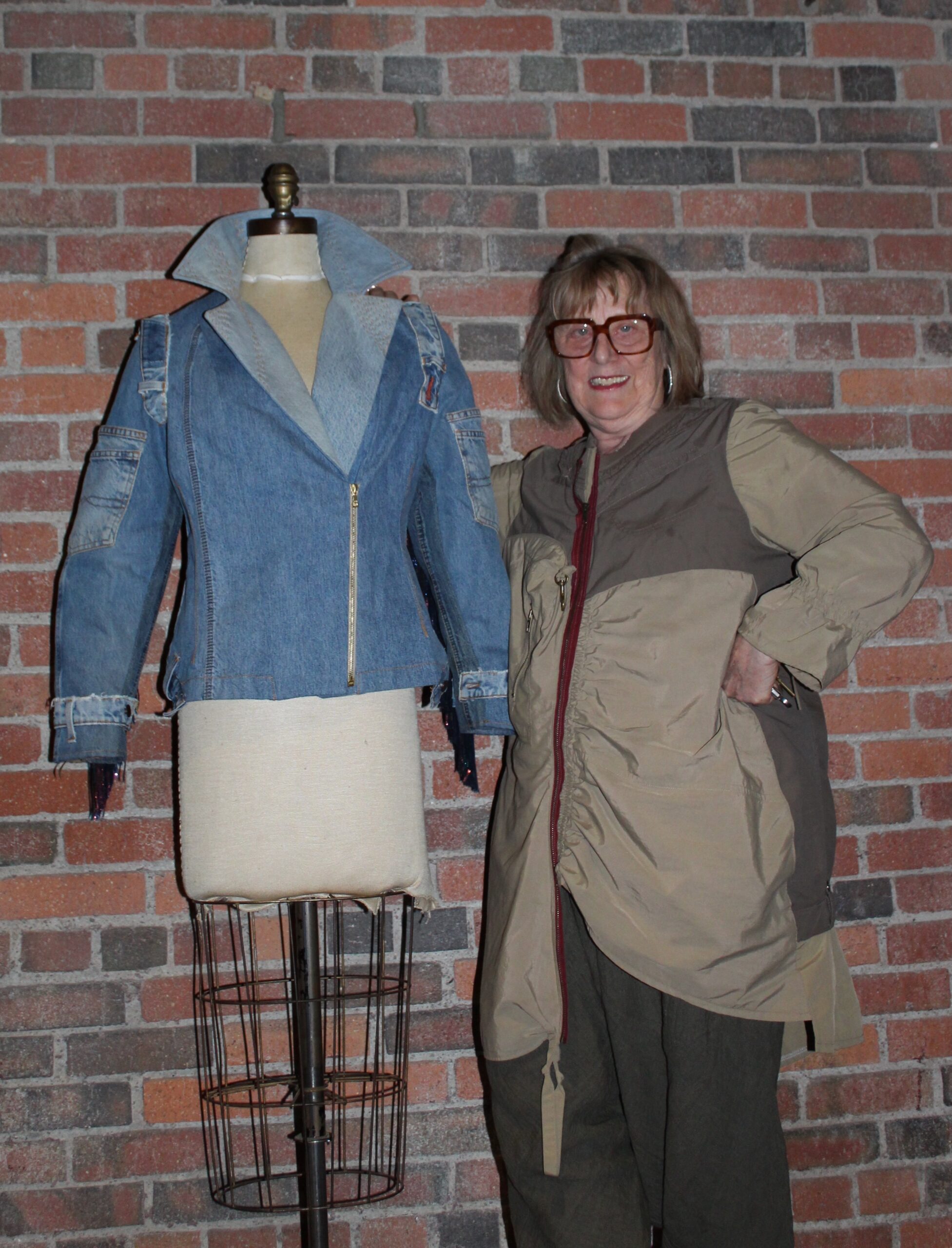 Brooks Luby wearing her own upcycled jacket showing off Shania Twain's custom denim jacket