A great performer deserves so much more than just a dress — and I like to think that I'm more than a dress designer so I was more than happy to rise to the challenge of dressing Birdee Bow for her photoshoot at Kensington's Oxford Hotel.
Pretty (and Funky) in Pink
The model's dark hair and ivory skin was just crying out for something fun, flirty and feminine, so I decided that this pretty, pink chiffon number was just the thing. Created from 100% pure silk chiffon, the delicate pink shade and halter style perfectly complemented and contrasted with the model's long, dark hair.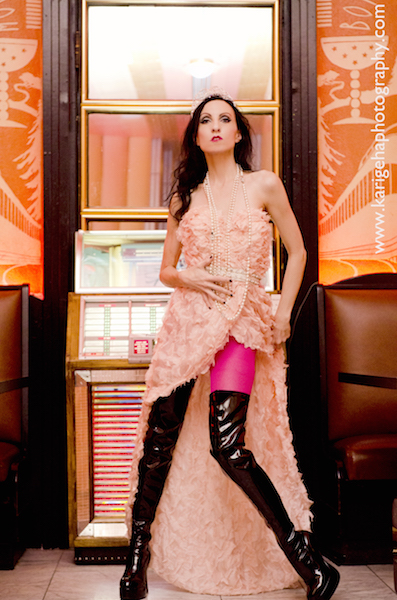 Fuchsia gloves, tights, and a pair of kinky boots in black patent leather added a little edge to the style for the photoshoot. Finally, the outfit was crowned — literally — with a sparkling tiara for a glamorous fairy-princess-meets-rock-chick look. Fun, but elegant, the dress features frayed edges and hand-stitched details and can be dressed up or down depending on the occasion, making it perfect for a glamorous night at the opera or a formal fundraiser.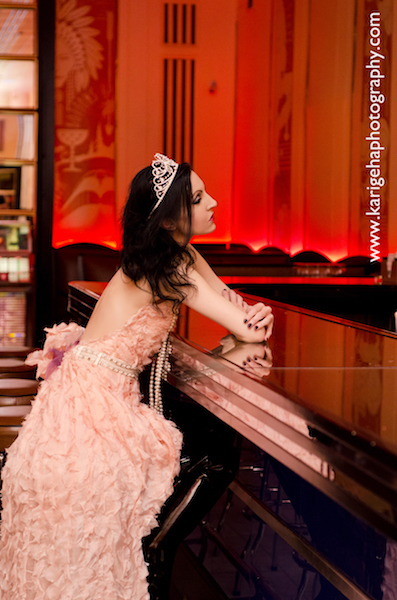 I chose chiffon for this design because of its feminine look, versatility, and strength. Despite their fragile look, chiffon and voile are surprisingly hard-wearing, and can be used for a number of different looks. I love to create beautiful and unique pieces for my collection, but not at the expense of our environment and I'm passionate about only using sustainable materials which don't diminish our planet's resources.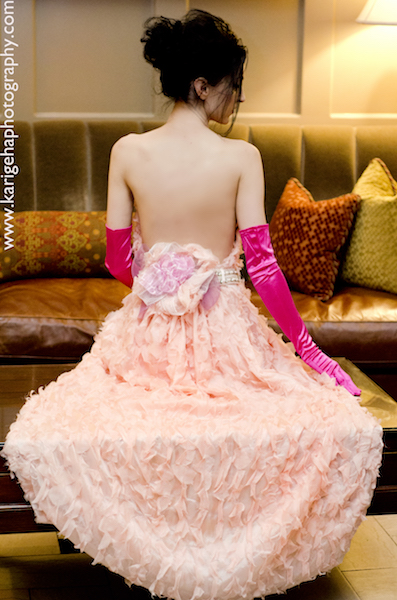 After the initial design and creation of the pink chiffon dress, I visited with the model to make some last minute adjustments to make sure that the dress fit perfectly — something which is incredibly important with a figure-hugging piece such as this one — particularly as the dress is designed to be worn without a bra. I think Kari Geha's photography work is also genius.
The overall effect of this outfit is feminine without being overly girly, and our model loved the dress so much, she didn't want to take it off once the shoot was over.