Tips on self awareness for Zoom conversations
Today I want to share tips for practicing self awareness on Zoom conversations.  First impressions are an extension of your well being, your personality and how you choose to present yourself to the world!  Clothing, accessories, makeup and the right lighting are a small list of things that will make a difference.
Let's face it, if you are meeting someone for the first time how you look is important, or if you are continuing a relationship either professional or personal it is powerful to look vibrant and present.  In today's world of Zoom conversations it is important to be aware of these short tips that can make a  difference.
Having that perfect neckline that frames your face is an easy way to gain the right attention.  Add a piece of jewelry or maybe layer more than one to show off your creativity.    You will be suprised what  small tips can do for your image.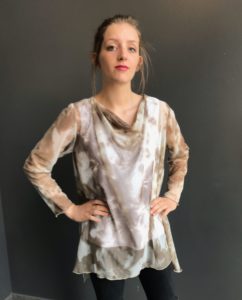 Here is a mesh tunic that has an interesting neckline for zoom conversations.  With or without jewelry it makes a soft impact on camera.
Here is where you can see and purchase this seasonless tunic
Image Consultant Advice
Speaking about image, I have consulted with an image consultant in Denver who is also offering her advice.  Tips on self awareness on Zoom is important for makeup and lighting as well.
Rhoda Johnson from Rhoda Design Group, is a creative visionary/Image Brand Strategist.  Here are some quotes about makeup and lighting for your continous Zoom conversations.
Makeup Tips:
1) Make self care a priority to radiate health; looking exhausted and stressed does not serve you
2) Mix BB cream and foundation for a soft coverage to eliminate shadows and uneven skin-tone
3) Use subtle washes of color on eyes, cheeks and lips that harmonize with your coloring
Lighting Tips:
1) Place the ring light facing you
2) Position yourself in the center of the camera frame and not too close
3) Eliminate the visual distractions behind you
Thank you Rhoda for your easy advice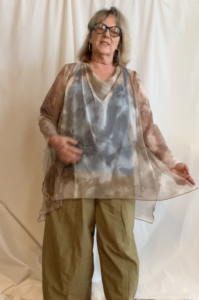 If you click on this you can see how this mesh top moves.  It's an experiment for me to be infront of the camera!