Thank you to  The Villager Newspaper  for the article covering the recent gala for breast cancer awareness at the Hyatt Downtown Denver. Twenty one models take the runway for breast cancer awareness.  The Denver Post and Joanne Davidson also describe the Red Carpet Runway evening.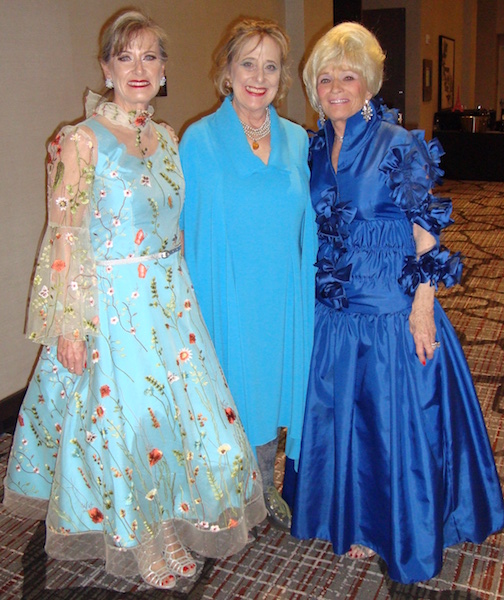 Fashion designer Brooks, 2014 Survivor Awardee, flanked by models Carol Holmes Fabian and Arlene Mohler Johnson, who are wearing her creations.
I was honored to dress 12 women for breast cancer awareness. All models are breast cancer survivors.
My vision for the collection began because I have been intrigued with several museum costume shows lately, The Power of Costume at the 
The Denver Art Museum
 and Manus x Manchina (Fashion in an Age of Technology) at the
The Metropolitan Museum of Art
 are two important influences.
 I have used many techniques found in costuming, extra padding, wires, asymmetrical hand embellishments, mixing textures, adding lots of ruffles, bows,or pedals.   Usual color combinations with subtle dressmaking extremes that can be translated into interesting ready to wear.
This collection starts with imagining an afternoon tea in a garden, continuing on to an early evening stroll down the Seine ending up at an Opera or Gala celebrating style that Paris is known for.
Traveling to Paris last November also had great influence on the collection. Festive makeup with a shimmer so that any model would be distinguished in a crowd at our reception.  Updos, red lipstick and a cat eye also carries on the theme of Paris/From Tea to Martinis.
Dressing each individual model challenges me to create something that compliments each body type along with each personality while still having that creative edge.  The relationship I have with each model is based on compassion and insight, as breast cancer survivors we share life-threatening challenges.
It gives me great joy to participate in this empowering event not to mention  watching the transformation of each woman as she struts the runway wearing my designs.