Creative photoshoots during Covid has energized me.  One creative photoshoot of note is at my friend, Suzanne Hagmaier's ranch.  Suzanne is a fellow Cancer Survivor and now equine trainer with breast cancer patients and survivors in mind.  The non profit organization she is executive director of is called Hope Held by a Horse, a non profit, which provides a safe, positive environment, in the company of horses, to support women with breast cancer to learn, grow, and heal.  Suzanne and I both know the importance of feeling powerful while dealing with breast cancer and these horses really make a difference.
Our team of creatives consists of 3 models, 5 Clydesdale horses, photographer, jeweler, myself and an assistant.  The photos are an awesome visual that is based on our vision of lifestyle choices on a ranch, Colorado style. With collaborative efforts one encounters unique ideas, whose combination always results in something great.  This is our somethiing great! 
Follow along to see more of the day, I will post more weekly as there is so much to share, I created many looks for this shoot.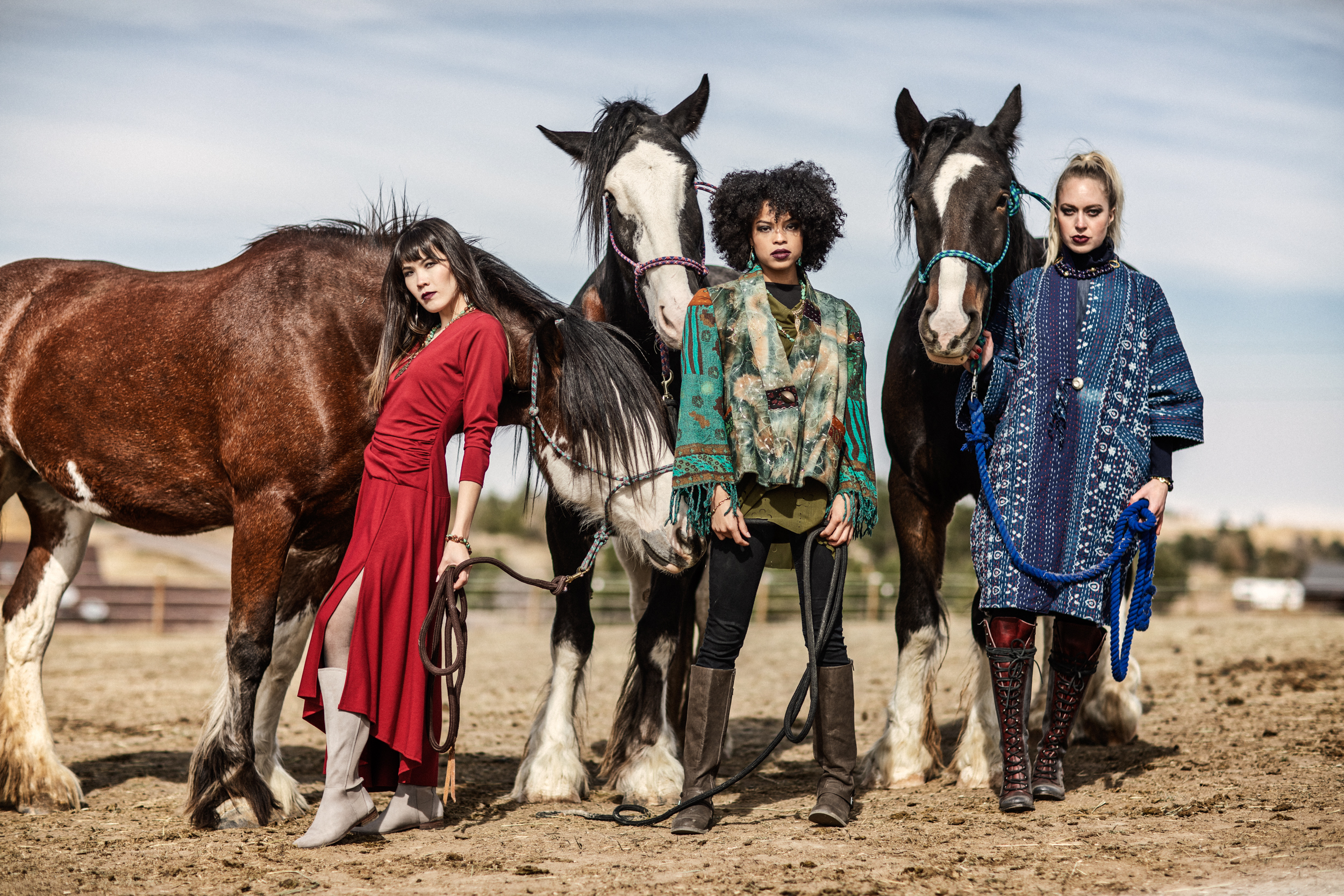 These new artful jackets can be found on my shop page.  The red dress is here. 
I've made sure they are available to you, but remember they are one of a kind!  Once gone they are gone!
The creative team
A shout out to Hardy Klahold for the photos, Christine Marguerite Designs for her custom made jewelry, models Aidana Tokenova, Danshay Martinez and Alyssa Wahr and Suzanne Hagmaier with her friendly horses.  A portion of the sales of these items go back to Hope Held by a Horse a non profit organization for breast cancer survivors.  Support local artists and look fabulous doing it!
I miss my community but am hopeful that reaching out by blogging keeps us connected.  Having these creative photoshoots are my way of also staying connected in an interesting way.
Any comments are greatly appreciated.  I am learning that your interaction with my posts helps me stay in the virtual world game, so don't be shy, please comment!  Help me be visible to that huge virtual world!  It would be much appreciated.
Here's to your health and well being,
Brooks