Slow fashion
What is Slow fashion?  It is a term that has been talked about for a long time.  The fashion industry has been amping up the awareness for slow fashion brands.
I googled the term and this is what came up: "Slow fashion is the movement of designing, creating, and buying garments for quality and longevity. It encourages slower production schedules, fair wages, lower carbon footprints, and (ideally) zero waste. —"
Let's look at these three terms, quality, longevity, zero waste.
Quality
Investing in quality over quantity is something that will help our environment.  Look inside a garment before purchasing it.  At a young age, I remember my Mother buying me a dress when I took it home, I looked inside and saw the seams were already raveling.  I took the entire dress apart and re stitched all of the seams including finishing the seams so they wouldn't ravel.  That was about 50 years ago!
TIP: seams need to be finished to prevent raveling.
Longevity
Longevity, from Webster's dictionary this means  "long existence".  We are seeing a large trend in upscale recycling stores becoming at the forefront of retail.  This is because quality vintage items can withstand the test of time, in other words, have a long existence.  It pleases me that some of my clients still have pieces I've created decades ago.
TIP:  recycle your wardrobe by putting a piece in the back of your closet and bring it out a few years later. It becomes new to you again.
Zero Waste
"The Zero Waste philosophy attempts to encourage a lifestyle that ensures as many products and materials are reused, rather than ending up in landfills. The clue really is in the name – 'zero waste' means trying to prevent anything from ending up in landfill or incinerator. The overall goal is to keep materials in circulation for as long as is possible, by ensuring numerous valuable lifecycles. Instead of discarding resources, the aim is to create a system whereby all of them are able to be reused again."  (excerpt taken from google)
This is a large scale term for many items-plastic bottles for instance. However,  for the clothing business it means repurposing fabrics.
Repurposing fabrics into new garments, or new accessories has been a goal for my brand, using zero waste.
Here is an example of one of many pieces that I have used slow fashion in my designs.  I had the fabric in my stash for a few years as it was on the end of a roll.    I came up with this design for the 'leftover' fabric.  I didn't quite have enough so I recreated the pattern design to include the yoke at the front of the garment to make it work. The creative juices produced a new design based on  zero waste.  The hand stitching slows me down, keeps me accountable in order to give you a unique piece that only you will have, a one of a kind!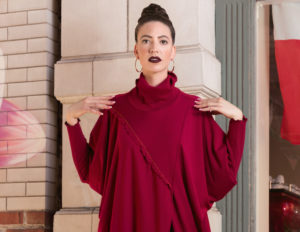 Teodora Pogonat Photographer
See and purchase this piece in my new shop page here.
Thank you for the following, 2021 will start out as a continuing challenge, I am grateful for your ongoing support as we all filter through how to maintain calmness in the middle of a panemdic.  If you have any topics you would like me to address, please leave them in the comments below.