Magical Mystery tour is taking me away.
I woke up this morning with these thoughts from the Beatles song:
The Magical Mystery Tour is hoping to take you away
Hoping to take you away

Hoping to take you away…..
I think I've been on this magical mystery tour since the begining of Covid.  After several weeks of dismay, I came out of my funk and started creating new ideas and I haven't stopped.  I'm calling it my magical mystery tour and it's taking me away.   To find good in this world of irrational behavior is feeding my soul.
The new techqniue I'm learning for creating interesting, artisan a clothes has me engaged.  It's keeping my brain active and my hands busy.   I'm enjoying solitude and at peace with my inner self.  Maybe this can encourage you to think about all the good that you have even in times of chaos.   Choose new things to engage your mind, don't get caught up in the noise of the times.
Here is what I've added to what I'm already doing the difference here is I've started to use denim!  It's a tencel denim which is sustainable and made from wood plup.
Read more about it
here
.   I've taken a familiar fabric, added a tye dye effect and 3 dimensional appliqués to create an interesting look.  I already know this shape is a good one as I've used and sold it in the past seasons.
ONE SIZE FITS MOST!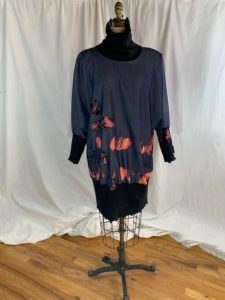 See this item and more on my shop page
here
.
Please follow along with me on this magical mystery tour I have a feeling it's going to last for quite sometime.
Here's to your well being and new beginnings that speak to you in these unusual times.
Cheers,
Brooks