Fashion and Relevancy
Fashion and relevancy during the pandemic is self healing.  Even in times of chaos, dressing can give us joy. Afterall isn't that one reason to dress up? As a fashion designer this quote from VOGUE resonates with me……
"We need to give hope, we need to show beauty, and people still want that still. We need still to believe that a human being can create with their hands, with their own feelings, and heart, and imagination." That's the thing about couture, its magic is handmade."…..Anh Duong
Yes we will dress up again, or maybe you already are dressing up for yourself and or your loved ones?
I believe that taking care of yourself especially during times of crisis is self healing.
We dress up for ourselves, our loved ones and just to feel better.  I know for myself if I take extra time to look good it makes me feel better.
What kinds of things do you do to make you feel better?  Some things that come to mind are relaxing baths, favorite fragrances, experimenting with hair and makeup and wearing comfortable, chic clothing.
Linda G. Levy,
President of
The Fragrance Foundation
quotes  "Fragrance is directly linked to wellness and self-healing. As scent is the
#1
sense linked to how the brain processes memories and emotions, fragrance has a very special way of contributing to your sense of comfort and serenity.
Fragrances can instantly transport you back to a time, place, or person – bringing a sense of happiness, comfort and relaxation to your day. Also, fragrances can help you feel energized or grounded. Different ingredients have different wellness and healing properties & add the finishing touch to your self care as well as your beauty regime
In terms of fashion, I think wearing a fragrance is an extension of fashion and your self-expression – your most powerful, invisible accessory."
Chic clothing for well being.
My clothing can be described as Artisan designed playful sophisticated clothing  so that ageless women can look and feel comfortably chic.  At home or otherwise.  Here is our basic white shirt with a fun mask as seen in Malvie Magazine, June 2020.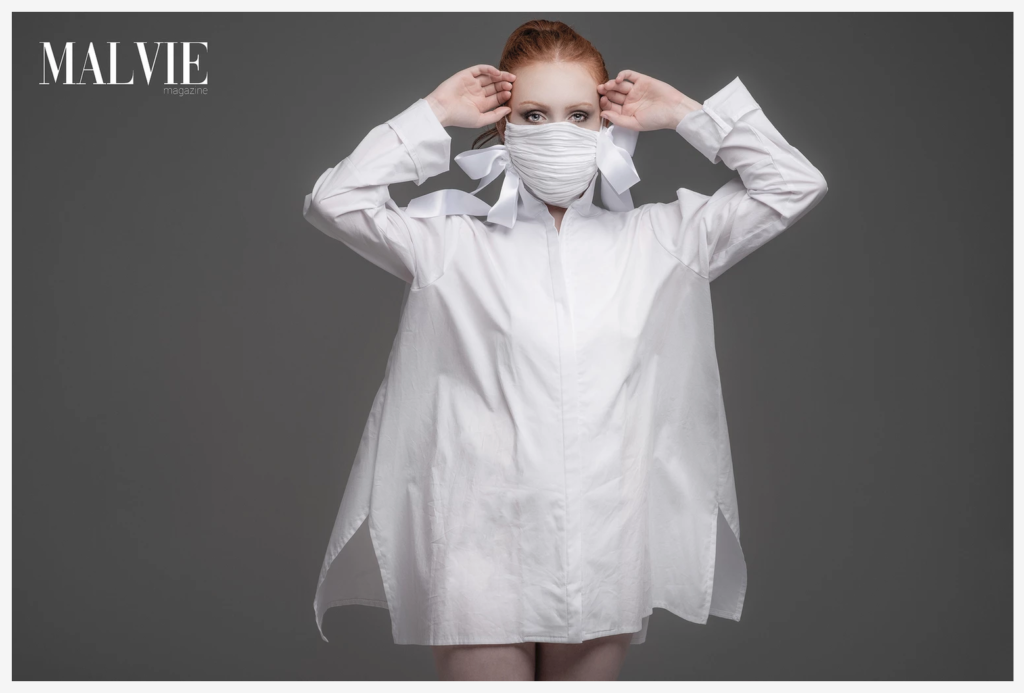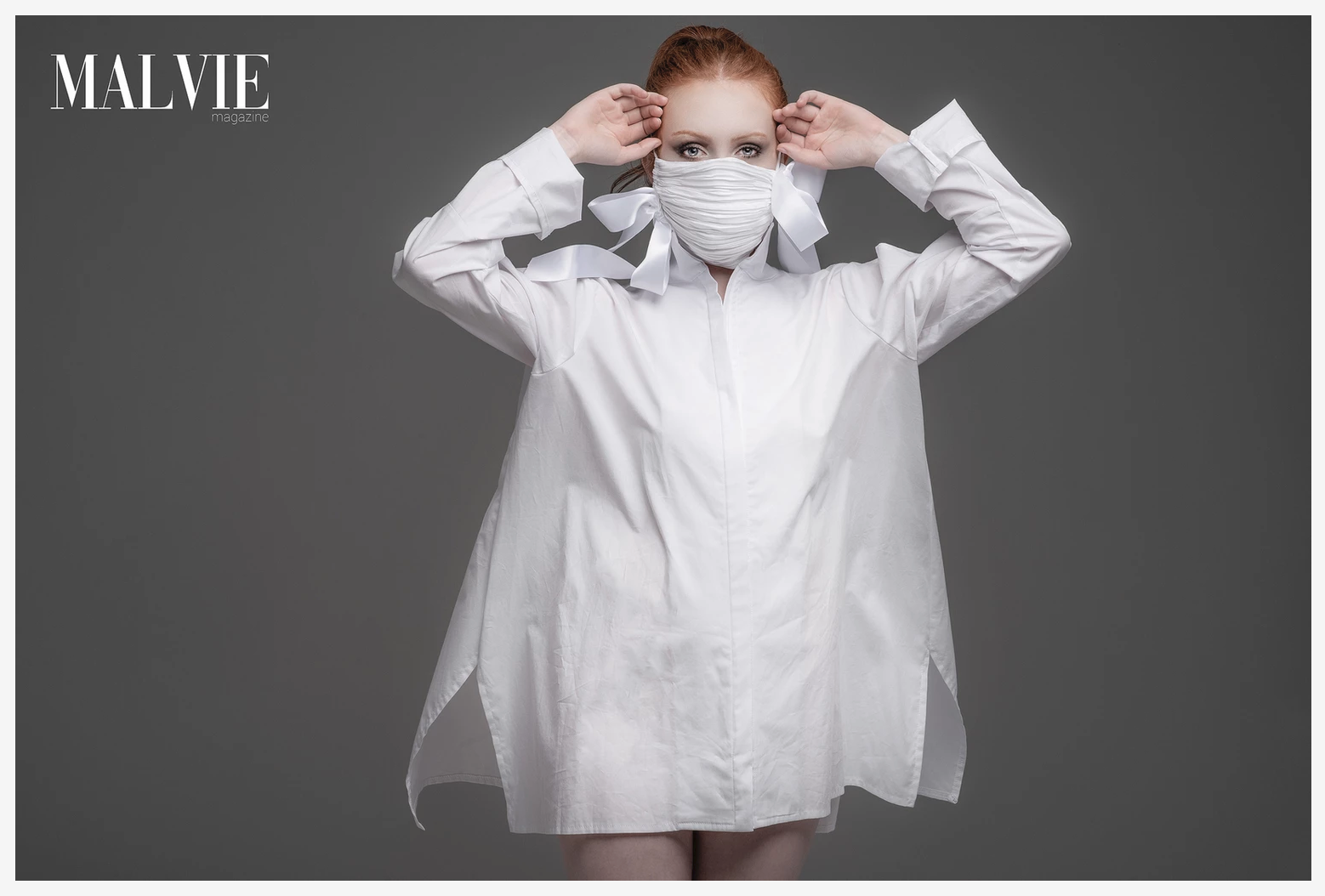 'Henry' blouse available here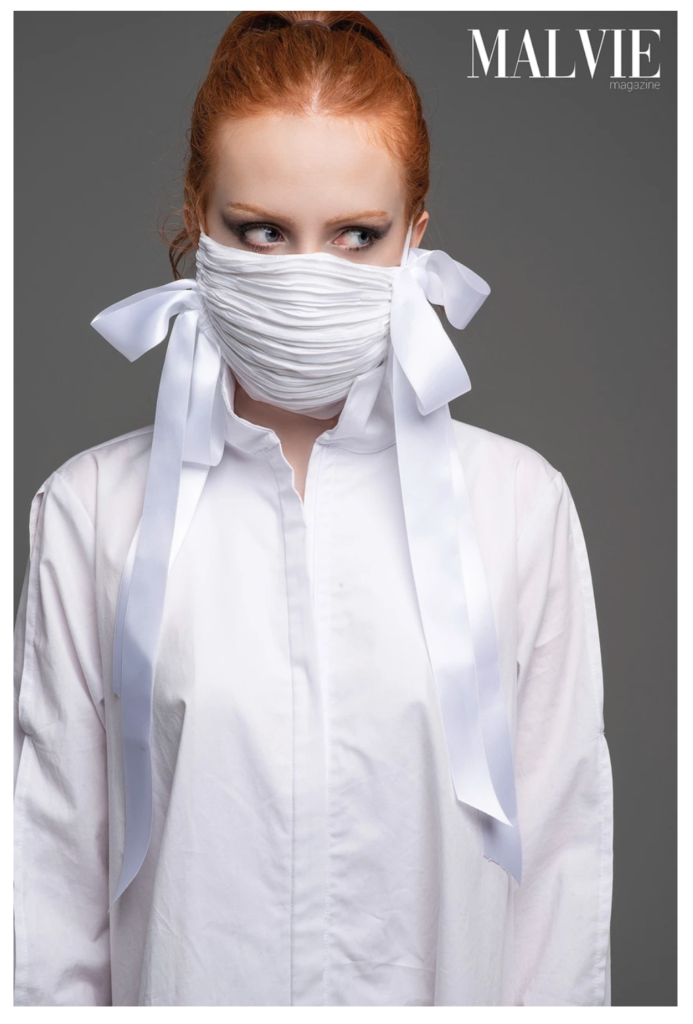 Now is the perfect time to spend extra time for self care.  When the pandemic is over you might even find yourself adding more self care to your daily routine.  Out of the pandemic there will be positive things, can't wait to get to that point!