Fashion West
Fashion West is a newly developed and well curated fashion show featuring designers from the West.  Often one thinks of Fashion in the West as purely western style.  Think cowboy boots, hats, bandanas and other such traditional things.  Additionally western can mean many things to many people. The range of talent in this show will be very modern and nothing like one expects. Above all, I am honored to be a part of the whole and I am excited to show you my vision of Fashion in the West.
It's more than western style, or western dress, it's an attitude.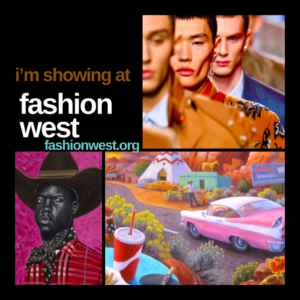 Additionaly, In preparation for the show I was recently  interviewed by Charlie Price for the upcoming Fashion West Fashion Show in Denver Colorado.  There are alot of insights as to the tranformation I have recently gone through being in isolation for the 2020 year of Covid.  If in the Denver area, the show is August 16  doors open at 5PM at the Exdo Center.
From the interview in Fashion West:
You have such a range of work in your showroom, how would you describe your design style?
My aesthetic radiates a sophistication that is attained by using interesting textiles, handmade qualities, patterned with a semi tailored effect.  My design style is consciously curating perfectly made garments that have a sense of whimsy, artful details with a flair for femininity.
Why are you – and – what is the thing you love most about being a citizen of The West? 
I am forever grateful of my environment and it is constantly influencing my design and color choices.  The noise of the fashion industry is tempered by my choice to live, play and work in The West.  Being a creative has its advantages not necessarily where you live – as the world has become smaller. Things are more attainable with the Internet being so easy to adapt to.  Of course the fashion mecca's of the world also has its advantages. I choose slow fashion where I can be the Creative Director and maker of how and why my brand remains sustainable.
Your creations are often quite fluid – is that something you specifically intend and what are your favorite fabrics to create with?  
Fluid fabrics enable the wearer to move seamlessly and joyfully. Women adore feeling feminine and being able to move in their clothes.  I love to drape designs and let each textile speak to me. I am using my instinct and intuition rather than traditional methods learned. Fluidity has always been as aspect of what I achieve…now even more so since I have recently let go of many rules. As I create I am becoming one with each piece that is a new exploration of design with confidence and quality. Every piece has a story and people are very interested in listening to those stories and working directly with the creator. My voice is being heard!
You are a trailblazing business woman in Denver – and have been working as an independent designer for decades in Denver – a city some say disregards fashion – What made you launch here – how has it been and has the business and your clientele changed in recent years?  
As a native after attending design school at Fashion Institute of Technology (1972) I made a conscious decision to take lifestyle over career.  I always felt that executing and creating my craft could exist wherever I chose to be, all I needed were the right tools and equipment.  Being in Denver has had its challenges and I have had to adapt to paring down some of my outrageous design aspects in order to maintain a sustainable business.
Being in business for over 45 years has made me adapt, pivot and recreate my business model and my clientele. More so this year (2020-21), than ever before.  I am proud to say that some of my clientele is multigenerational. My designs have proven to trickle down from generation to generation as I am continuing to meet daughters of women I have worked with as far back as the beginning.  With the influx of people moving to our Mile High City people have brought with them their sophistication but with a sense of comfort and ease.  Environments have a tendency to change desires in how one presents themselves to the world when they dress.  I say "Welcome to Colorado, embrace our sense of style, ease and comfort while living your best life".
What fashion trend do you loathe and what fashion trend do you love?
As I look back at many archives I see a reflection of a continuous flow of a tailored effect mixed with a flair for creativity and whimsy. It just comes out that way; the mixture keeps it wearable for many women, conservative or edgy. I love that mixture, unexpected and definitely something I strive for in my designs so that they are a recognizable brand. I loathe garments that are not made with care and attention to details, seams that pucker, insides that aren't finished and hanging threads (unless it's intentional). Quality fabrics and workmanship are just as important as the design.
View the entire magazine HERE.
Interview by Charlie Price
Edited by Tiaja Pierre
©2021 Fashion West | Design by David Rossa Design
If in the Denver area, the show is August 16 at the Exdo Center.  Tickets available here.
View my designs
I am keeping my newest designs under rap until the show,  however, you will be able to see them after August 16th.
 For those of you in the Rocky Mountain Region I will have an open studio August 20-21 11-4 each day.  Save the date!
In the meantime check out my new page on my site HERE.