Denim Dress Done Differently With a Tencel fiber
Denim dress done differently with a tencel fiber seems to be a new theme for my brand.
"The (tencel) fibers originate from the renewable raw material wood, created by photosynthesis. The certified biobased fibers are manufactured using an environmentally responsible production process. The fibers are certified as compostable and biodegradable, and thus can fully revert back to nature."
As a result, tencel now becomes a sustainable fabric! TENCEL™ branded cellulosic fibers define a new standard of sustainability and natural comfort.  Also known as tencel lyocell.
Three new denim designs
Designing 3 different pieces incorporating denim gives  a new sense of awareness for my love of denim.  This caftan shape tencel dress  has movement in the body. Of course there are pockets to hold your necessary items.  It's carefree, casual and comfortable for hanging around the house as well as going to beach.  The open arms has a peak a boo effect without baring too much skin.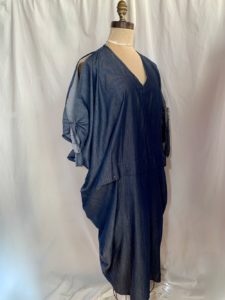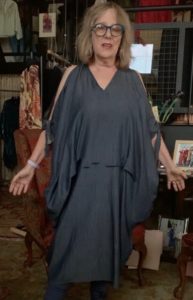 The second one is a turtleneck style that is draped  into a tencel cocoon dress. A cocoon, it's just that– you feel like curling up as if you were inside a cocoon.  With the turtleneck sleeve and neck element it protects you from the elements of mother nature when changing weather  arrives.  I've detailed it with hand stitching along the sleeve line giving it a slow fashion feeling.  Something I like to do in front the the TV on cold winter nights.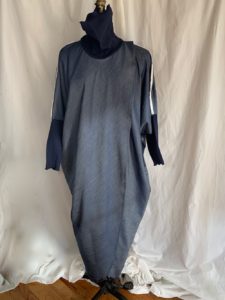 Lastly is a sweatshirt shape. This design on tencel has been treated with a pinkish color to create colorful, artful shapes along  the hipline.  As a result, separate appliques are stitched onto the garment on top of the pinkish dyed color in the garment.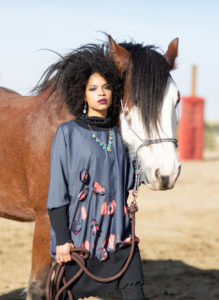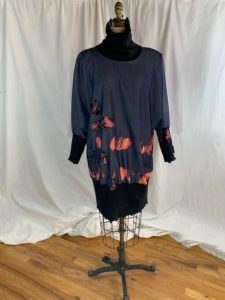 See these pieces and purchase them in my shop here.
I trust denim will follow my branding as the new year develops.