Engaging in social media to help your favorite brands is an important feature that some of us do not understand.  I've invited McLernon & Co to explain why and how your can help elevate your favorite brands, local or globally.
Four Ways to Support Independent Artists on Social Media
Hi there, it's nice to meet you! We are McLernon & Co., a social media agency, and we're also friends with Brooks Luby here at Brooks Ltd. She invited us to write an article for her email newsletter about why  engaging in social media with your favorite creators can elevate their prescence.
Many of our favorite local artists, designers, and creators – even those who have brick & mortar storefronts – rely heavily on their digital presence to build their audience, connect with their communities, and as a result, make more sales.
Here are four ways you can support independent artists in your community with social media:
Follow them on social media, and like their posts
Show your appreciation for their art and work by following your favorite artists on social media! This helps them achieve more credibility and clout online, and also has the added benefit of filling your feed with beautiful works of art.
Comment on their posts
On one level, engaging with posts helps them achieve a higher reach; the higher a post's engagement rate, the more the Instagram or Facebook algorithm will favor the post. In turn, more people will see the post.
But on another level, the comments section also allows you to connect with the artist on an individual, human level, and encourage them to keep sharing their work by Keeping Social Media Social™! If you don't want to write a full sentence, even something as simple as a single word or an emoji can be very supportive.
Save and share!
Saving posts (by tapping the bookmark icon on an Instagram post) is the best way to tell the Instagram algorithm that you want to consistently see a given account's posts on your newsfeed. Saving is also a great way to keep track of artists, pieces, or items you love and want to be able to find again, and you can even sort your saved posts into different categories! Click here to learn more about saving Instagram posts.
Sharing (by tapping the airplane icon on an Instagram post)  is a great way to #KeepSocialMediaSocial, allowing you to connect with others on social media by sending posts and pieces that made you think of them. This also helps expand the reach of the artist's account!
Make a purchase
The best way to support the artists you love is to pay them for their work. If you do purchase a piece from an artist you follow on social media, be sure to share your new art on your own social media profiles and tag them so they see it!
If you are an artist or brand who wants help developing and managing your own social media strategy, you can learn more about the Keep Social Media Social™ mission and community at keepsocialmediasocial.com, or work with McLernon & Co. to up your social media game at mclernonandco.com. We hope to see you in our inbox soon!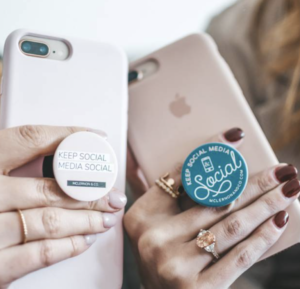 Thank you for the tips!
Thank you McLernon & Co for these helpful tips. The more we educate how important it is for everyone to help our favorite brands the better .  Engaging instead of just surfing elevates the rank of a brand.  As said above, just one word makes a difference.  If you are social on social media, please like and engage on my page here.  If you are interested in what you see, shop the looks here!