Today I'd love to have you all meet Erin and her twin sister Megan as they toast Megan's upcoming wedding!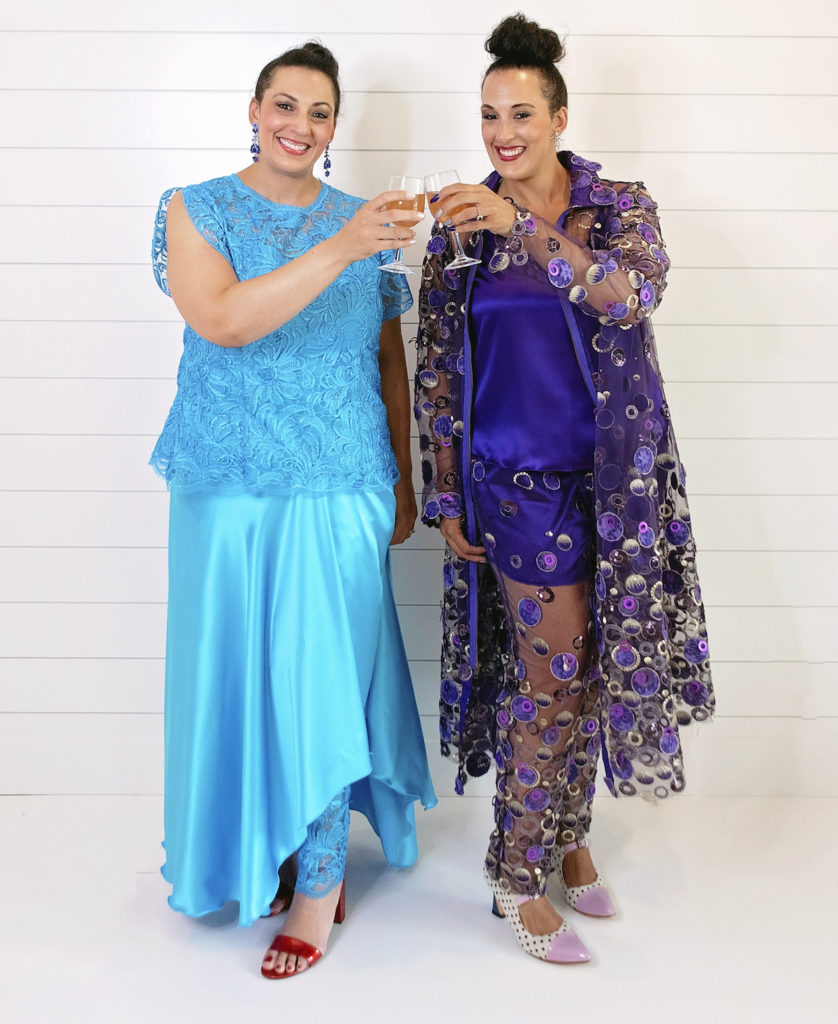 Photo credit: Erin Lassahn Photography
The wedding was this summer and I had the pleasure of dressing them and their mom for the festivities. Today I will concentrate on Erin, Megan's sister who stood in for the bride as the only bridesmaid. I had a blast working with all three of them, and since we started several months ago, it helped to make the design process more relaxing and all about pure fun. That's something I strive for when creating dresses of women's dreams.
The color choice was based on the bride's desires. Fun, happy colors that will look festive and bright in the urban industrial wedding venue: Moss Denver. Once you've chosen your wedding venue, picking colors for your bridal party is always important, too!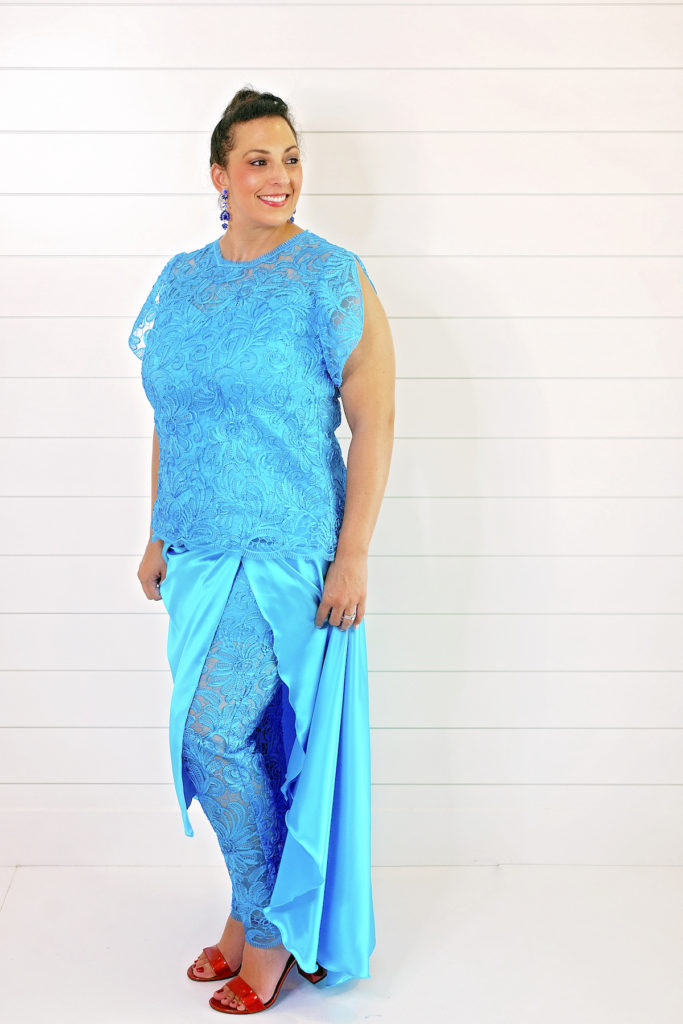 Photo credit: Erin Lassahn Photography
Erin fell in love with some lace pants at my atelier, so with that in mind and the turquoise color choice, I searched for the perfect fabric that would create a pant to go underneath a silk skirt in the same color. I tied all of the elements together in a hand-stitched decorated waistline of her wrap skirt. Note the touches of red to pull out the color of her shoes. No detail is left undone.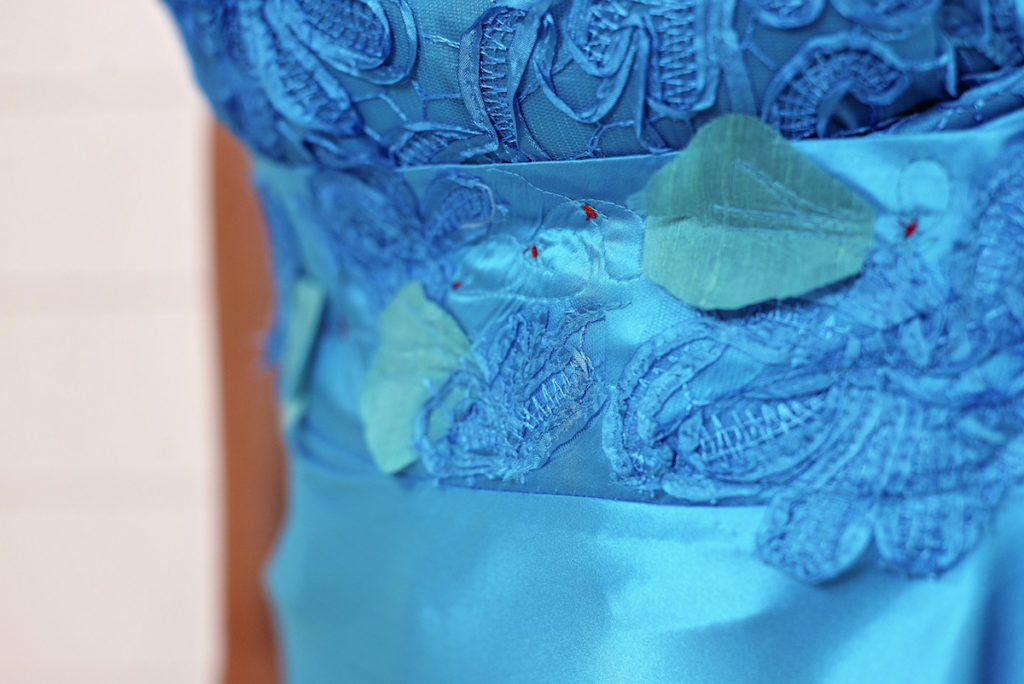 Photo credit: Erin Lassahn Photography
I believe that the back is just as important as the front. That is why I chose to decorate the center back with an exposed zipper. The sleeve detail is also visible front and back.
Here is a snippet from the actual fitting. I use Erin as the fit model to change up the original idea of a dolman sleeve to a set in sleeve. Things change as we go along. Yes, it's me who does the designing, fitting, sewing, and cutting. One of a kind ensembles need that one-on-one special attention; why not work directly with a local designer you can trust?
One of the details I always prefer is to look toward the future. I wanted Erin to be able to wear these pieces again, not just for the wedding. I suggested she wear the skirt with other tops, maybe a tight fitting sweater with leggings when the weather gets colder. The lace pant would look great with a tailored white shirt and the lace bodice works well with a dark colored pant and jacket for a day into evening look. The choices are endless and makes this a sustainable ensemble that she will wear many years from now. For other fun, sustainable fashion designs, check out my lifestyle ensembles online!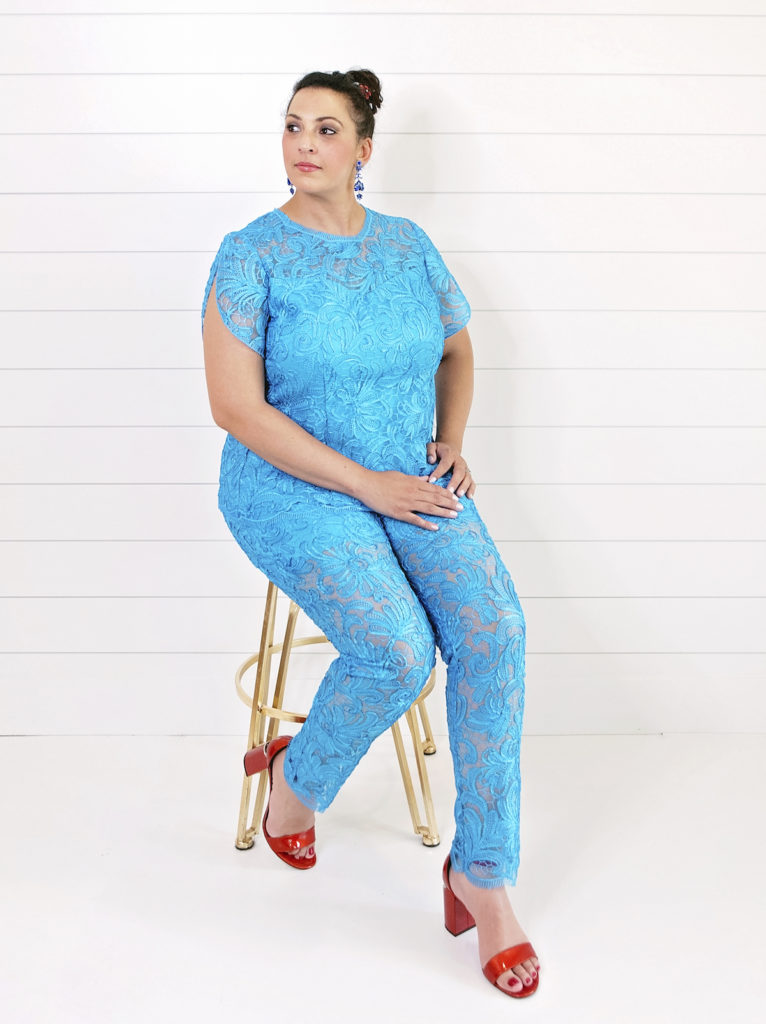 Photo credit: Erin Lassahn Photography
Congratulations to everyone! I loved working with these creative ladies. Thank you for the opportunity.
And did I mention how much fun we all had during the process?
Contact Brooks LTD for a Custom Ensemble Designed Just for You!
Whether you're attending a wedding as a bridesmaid or mother of the bride, or you're celebrating your own wedding or other major milestone event, you deserve to feel stylish in a unique piece made with your personality and body type in mind. Reach out to me for a custom dress that fits you perfectly.